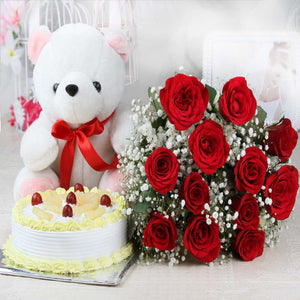 Check out this special gift combo on flowersacrossindia.com which is filled with awesome gifts for Occasion. This gift combo is comprised of one teddy bear, one pineapple cake, and a bunch of twelve red roses. Rose flower portrays different messages as per their color and number. 12 roses signify my steady. There is one round-shaped pineapple cake also available in this combo. The cake is enriched with real pineapple and is whipped cream garnished. The teddy bear of this gift combo is white in color and looks very cute.
Bunch of 12 Red Roses with Matching Ribbon Bow Tied,
1/2 kg Round Shape Pineapple Cake
, White Teddy Bear (Size: 6 inches).